Technivorm Moccamaster KBGT Automatic Drip Stop Coffee Maker with Thermal Carafe - Polished Silver
Technivorm Moccamaster KBGT Automatic Drip Stop Coffee Maker with Thermal Carafe - Polished Silver
Temporarily Out of Stock
Technivorm Moccamaster KBGT Automatic Drip Stop Coffee Maker with Thermal Carafe - Polished Silver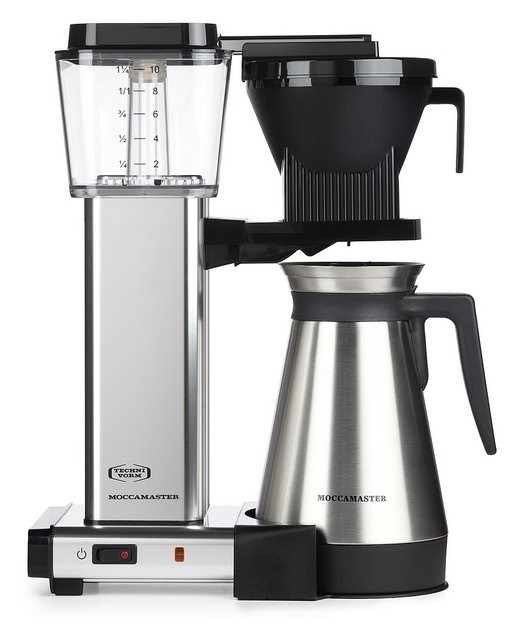 (
1
)
1
Perfect Cup of Coffee
in only six minutes
TEMPORARILY OUT OF STOCK


Sugg. Retail Price: $359
Our Price: $329.00
The award-winning Moccamaster coffeemaker perfectly synchronizes brew time, grind and temperature to brew world-class coffee in about six minutes. And thanks to an automatic drip-stop feature, it's easy to grab a quick cup before the cycle completes. Hand made and individually tested in the Netherlands, this legendary European machine brews directly into an insulated steel carafe, so coffee stays fresh and piping hot.
This precision machine quietly brews one of the world's finest pots of coffee in just 4 to 6 minutes.
Operation couldn't be simpler–just fill the brew basket, add water and press the power switch.
Automatic drip-stop temporarily stops the machine so you can pour a cup before the brewing cycle is finished.
Special copper heating element keeps water temperature at a consistent 200°F throughout brewing for optimal flavor and less bitterness.
An innovative 9-hole spray arm disperses the water over the entire grind for a remarkably even soak prior to extraction.
Copper lining along the spray arm keeps the water temperature consistent throughout the wetting stage.
To ensure a precise coffee/water contact time, a cone-shaped brew basket funnels the grind to the perfect bed depth.
Insulated stainless-steel carafe has a Brew-Thru lid that's scientifically designed to minimize heat loss and maintain perfect temperature during brewing.
The thermal carafe also includes a convenient travel lid for superb coffee on the go.
To avoid oil and residue build up, several parts are removable for cleaning, ensuring great-tasting coffee every time.
Illuminated power button is easy to see in the dark.
BPA free.
Dimensions & More Info
Model: KBGT741
13" x 6 3/4" x 15" high.
40-fl.-oz-cap.
This product is intended for use in the United States and Canada and is built to United States electrical standards.
Made in Netherlands.
Item #79312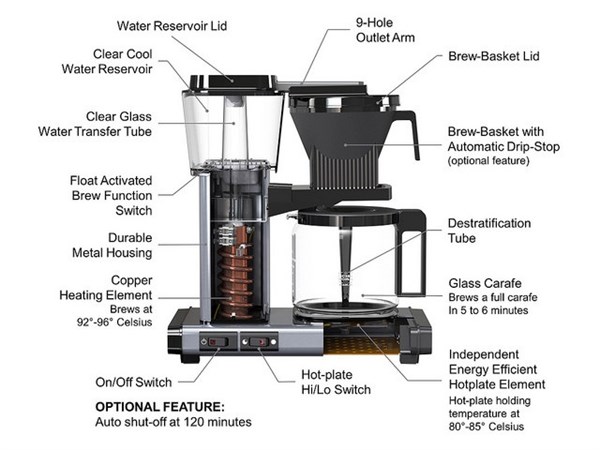 ---
You May Also Enjoy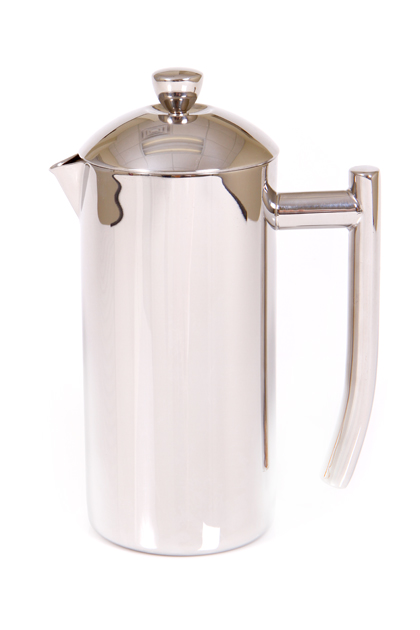 $119.95