Technivorm Moccamaster KBGV Automatic Drip Stop Coffee Maker with Glass Carafe - Yellow Pepper
$359.00
Technivorm Moccamaster KBGV Automatic Drip Stop Coffee Maker with Glass Carafe - Yellow Pepper
Technivorm Moccamaster KBGV Automatic Drip Stop Coffee Maker with Glass Carafe - Yellow Pepper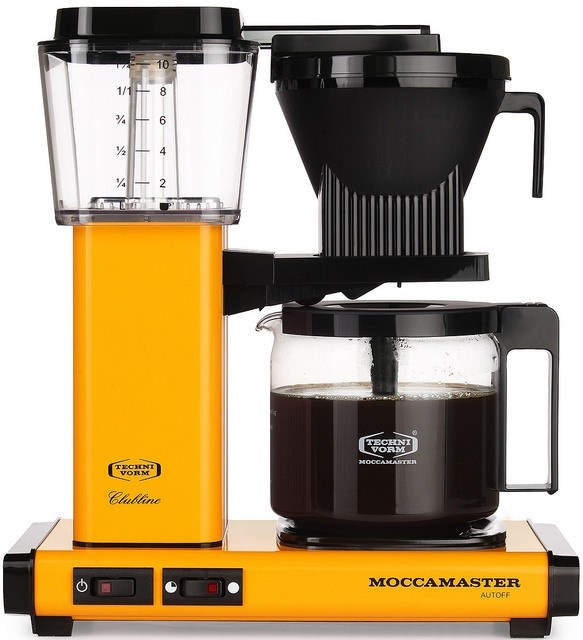 (
0
)
0
Perfect Cup of Coffee
in only six minutes
Sugg. Retail Price:  $389
Our Price:  $359.00
Hand made and individually tested in the Netherlands, the Moccamaster coffeemaker brews a perfect cup of coffee in only six minutes. A copper heating element ensures water stays at the perfect temperature from the brew cycle's beginning to its end.
Perfectly synchronizing brew time, grind and temperature, this fast, consistent machine quietly produces one of the best cups of coffee in just 5 to 6 minutes.
Special copper heating element keeps water temperature at 195°–205°F throughout brewing for optimum flavor and less bitterness.
An innovative 9-hole spray arm disperses the water over the entire grind for a remarkably even soak prior to extraction.
Copper lining along the spray arm keeps the water temperature consistent throughout the wetting stage.
To ensure a precise coffee/water contact time, a cone-shaped brew basket funnels the grind to the perfect bed depth.
Operation is simple – just fill the brew basket, add water and press the power switch.
An independently powered, energy-efficient hot plate keeps coffee at the ideal serving temperature.
Adjustable brew basket features a manually operated drip-stop which allows you to adjust for brewing a half pot, a full pot, or a full drip-stop for a quick cup before the brew cycle completes.
Several removable parts for cleaning to avoid oil and residue build up, ensuring a great tasting coffee every time.
Illuminated power button is easily seen in the dark.
BPA free.
 Additional Info:
12 3/4" x 6 3/4" x 14" high.
40 fl.-oz. cap.
This product is intended for use in the United States and Canada and is built to United States electrical standards.
Made in the Netherlands.
Item #59608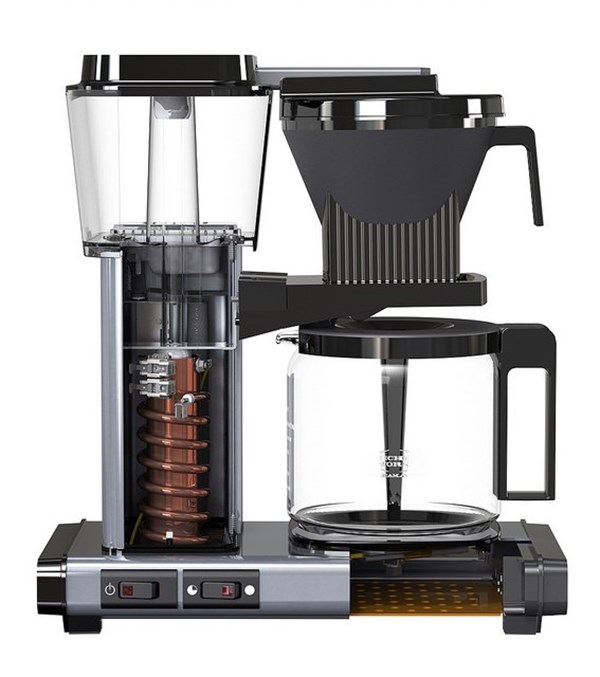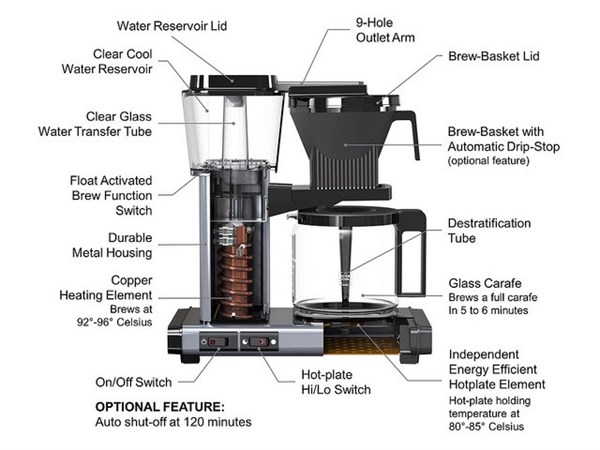 ---
You May Also Enjoy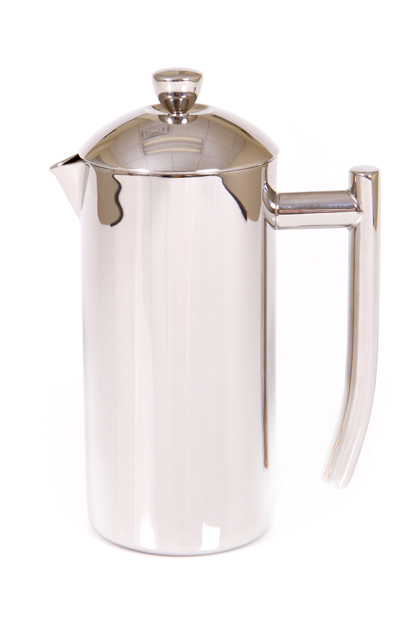 $119.95